Let's Connect on Instagram
Over 4000 strong, follow us on Instagram to get inspired by Lion Brand Yarn and to find out who and what inspires us!
We love to share your projects, so make sure to tag @LionBrandYarn when you post your knitting / crochet related projects.
How to Knit a Horizontal or Vertical Buttonhole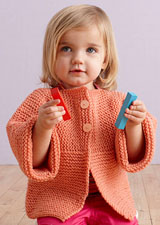 Buttonholes are commonly used in cardigans but you may also find the need to make them for purses, shawls, and scarves.
Barbara Breiter, author of The Complete Idiot's Guide to Knitting & Crocheting, explains how.
Send the Weekly Stitch to Someone You Love
Did you enjoy this week's edition of the Weekly Stitch? Then please pay it forward!
It's so easy to give the gift of education, inspiration and ideas to yarncrafters.
Your friends and family will be so glad you did and best of all? It's completely free to do.
:: Forward this edition of the Weekly Stitch to a friend now! ::