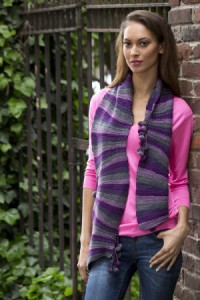 Zodiac Scarf Variation with Bobbles.To see our other zodiac scarfs click here.
Selma Moss-Ward is a freelance writer who combines her love of writing and of knitting in her columns, stories, and blog posts. This story appears courtesy of Lion Brand's monthly Pattern Journal newsletter.
This year, Allie resolved to be more sociable. It was hard to put yourself out there, but necessary if you wanted to have a life that was more than your job. She was an Aquarius - friendly, but also private - and cherished weekends when she could sleep late, crochet, and chat on the phone. That was her restorative reward after a killer work-week. But she was tired of being alone. Maybe she needed a little less privacy and a little more friendship.Wearing her favorite pink sweater and skinny jeans, Allie strolled the few blocks from her apartment to the Java Library. With the comfy seating and alluring bookshelves, the Java Library invited you to relax. She usually spent no more than five minutes there, always satisfied with buying her morning coffee and leaving.