Lion Brand Notebook: Our 10 Most Popular Patterns from 2013!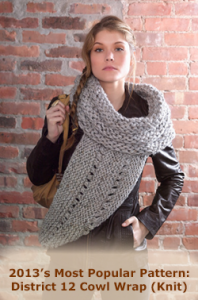 Now that the holidays are over, you can start working on projects for yourself again.
With that in mind, here are the most popular Lion Brand patterns from this past year, including our District 12 Cowl Wrap, which turned out to be the most popular pattern of all!
:: Read more. ::
Get New Skills with Lion Brand on YouTube
Do you use Youtube? Subscribe to the Lion Brand channel and join over 16,000 like-minded yarn-lovers learning to crochet, knit and more! Our tips and tutorials are great for those just starting out or those looking to acquire advanced skills.